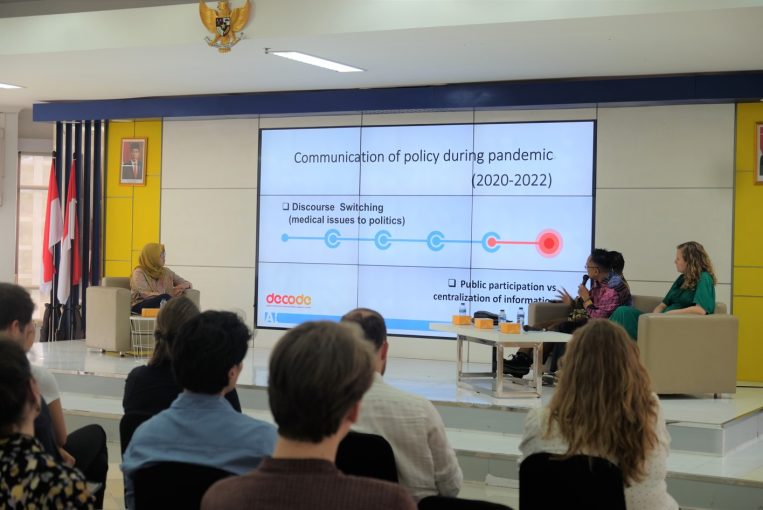 Yogyakarta, May 19th 2023─The Global Engagement Office of the Faculty of Social and Political Sciences of Universitas Gadjah Mada (GEO FISIPOL UGM) received a visit from the Ministry of Finance of the Netherlands on Friday (19/5) at the Auditorium Mandiri of FISIPOL UGM. A total of 30 delegates with various fields of expertise from the Ministry of Finance of the Netherlands attended the event, including Maikel Joosten, Treasury Policy Advisor, Recovery, and Resilience Plan Directorate Program and Nienke Landman, Policy Advisor on Social Benefit Expenditure. Meanwhile, representatives from FISIPOL UGM also attended the discussion panel, namely Wahyudi Kumorotomo, from the Department of Public Policy and Management; and Muhammad Sulhan, from the Department of Communication Studies.
Indonesia was chosen as the destination country for the visit which is an annual agenda of the Ministry of Finance of the Netherlands because the two countries, Indonesia and the Netherlands, had just agreed to strengthen the implementation of transition finance. The agreement occurred on the sidelines of the meeting of the International Monetary Funds and the World Bank last April. The visit of the Ministry of Finance of the Netherlands to UGM aims to study about the budgetary, fiscal, and economic policies, international cooperation, and international development from the perspective of Indonesia and Southeast Asia.
In his presentation, Wahyudi explained the issue of electric vehicle policy in Indonesia. According to him, Indonesia needs a stronger commitment in terms of a sustainable energy transition. This is because Indonesia is still being overshadowed by the policy of fuel subsidies, which are fossil fuels. It is considered a very political issue. In fact, Wahyudi assesses that Indonesia has a very large opportunity in the production of electric vehicles. This is because Indonesia has significant nickel resources. Therefore, a combination of fiscal and non-fiscal policies is a crucial aspect to encourage the implementation of electric vehicles in Indonesia.
Furthermore, Sulhan explained his material entitled "Politics and Policy Communication in Indonesia: Models & Issues". Sulhan emphasized the importance of the communication aspect in the scope of public policy. According to him, the communication aspect of the policy is an important factor in determining the success of a policy. Even though the technocratic aspect of a policy is already qualified, the absence of a good communication strategy has the potential to cause problems.