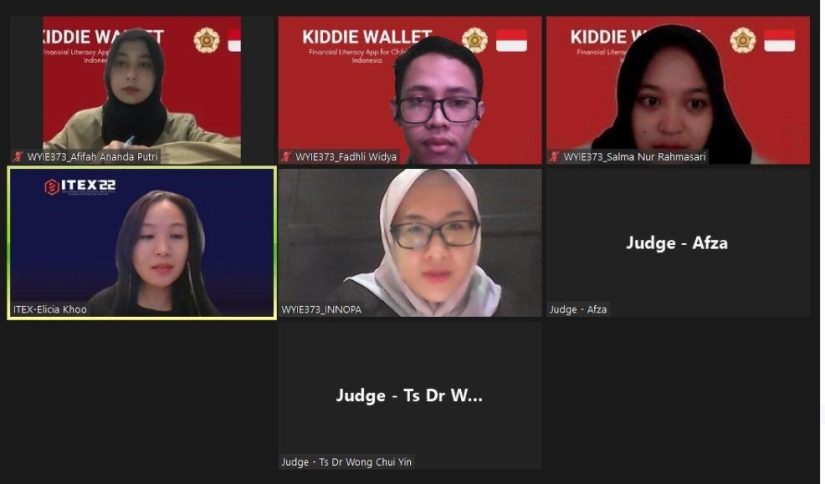 Yogyakarta, July 30th  2022─Students of the Faculty of Social and Political Science (Fisipol) UGM successfully gained Silver Medal in the World Young Investors Exhibition (WYIE) 2022 competition in Kuala Lumpur, Malaysia. The Kejora team consists of Fadhli Widya Ramadhan (Leader), Afifah Ananda Putri (Member 1), dan Salma Nur Rahmasari (Member 2). The team joined the competition online through Zoom Meeting because they can't go to the offline event in Kuala Lumpur. 
Fadhil as the team leader tried to create innovation in the economic sphere. More specifically, he tried to create a prototype of a financial literacy app called "Kiddie Wallet". The application invites kids in Indonesia to learn basic financial management in order to increase digital literacy. According to the team, the digital literacy issue is important to raise because it is a basic knowledge that children need to understand since their early years. This is more so because it's a very much needed skill when they are adults.
"This is also our way to help society be more financially literate," Afifah said. 
The process of the competition starts with an abstract selection of the proposed idea (April 30th 2022). Then, the team who were selected had to exhibit their work with an announcement on May 10th 2022. Next, the presentation of the participants' works was done on May 20th 2022, followed by the last exhibition and awarding which lasted from 25th to 27th May 2022. Throughout the competition, the team coordinated together through Zoom Meeting.
The idea and prototype garnered support from the judges, especially when it comes to the financial literacy point. Seeing that panic bullying and failure to pay for online loans are a trend these days, financial literacy is important.
"We are very grateful and happy. We hope that everything goes well when we develop the prototype, be it when it comes to the training, funding, or other aspects of the process that has to do with the university or third parties," Afifah said.
Furthermore, it is their first time in an international competition and their first time getting a Silver Medal. The Kejora team encourages other UGM students to not be afraid to try new things which is related to UGM's motto "Locally rooted, globally respected".