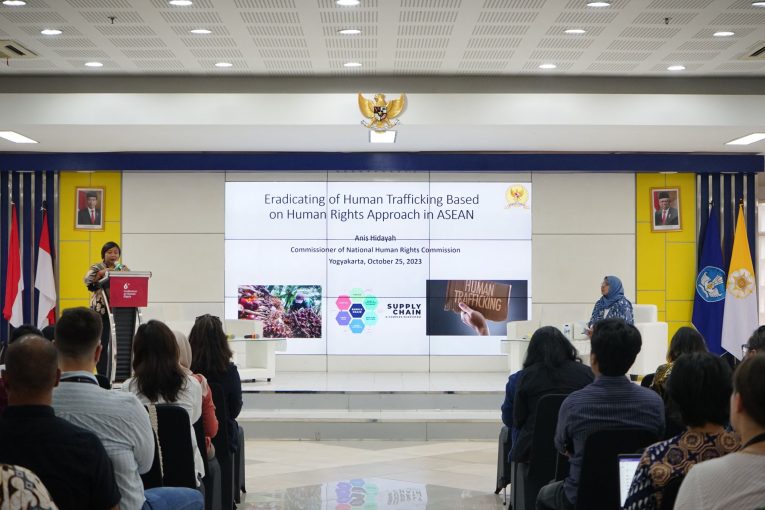 Yogyakarta, October 26th 2023—Indonesia as a multicultural country has abundant natural and cultural wealth. Aspects of traditional communities or inland tribes are the roots of the nation's foundation. Unfortunately, this community is still untouched by aspects of human rights, politics and even legality. For this reason, the Department of Politics and Government, Faculty of Social and Political Sciences UGM together with the National Human Rights Commission (KOMNAS HAM) held an Asia-Pacific conference with the theme "Indigeneity and Human Rights in Asia and the Pacific Towards a Just Society: Challenges and Opportunities" on October 25-26 2023.
Not only Indonesia, countries in the Asia-Pacific generally have communities that are strong in cultural heritage. The meaning of community itself varies greatly, starting from communities that are formed due to similarities in demographics, religion, ethnicity, culture, and so on. This conference involves academics, government, practitioners, experts and students to explain the challenges these communities actually face. And of course how to protect their human rights in the current conditions.
As a country with a divine principle, one of the issues that often arises is conflict between religious communities. The state recognizes the existence of five official religions in population data. However, there are communities that often have different views. These differences then give rise to conflict, even between religious communities. "We researched the Ahmadiyya Muslim minority community which often faces rejection from other communities. They were attacked and ostracized, even expelled until they lost their homes. But this issue has never been considered discrimination by law," said researcher Firmanda Taufiq.
He explained that since the new order era ended, the human rights movement which was previously prohibited by the government had begun to revive again. But still the development of human rights continues to stagnate. This can be clearly seen from several cases of violence, discrimination and intolerance which have never been resolved and are often taken for granted. "One example occurred in the Ahmadiyyah community. According to several studies, the attacks experienced by this group were apparently provoked by local residents. Even the government also supports the rejection of the Ahmadiyyah group," he added.
The conference, which was held for two days, produced at least five main objectives. First, the definition and contextualization of indigeneity in Asian and Pacific societies. Second, elaborating on human rights issues surrounding politics, democracy, gender equality, land rights, culture, accessibility of public services, education, etc. Third, explore opportunities to protect people's human rights. Fourth, prepare policy recommendations for the government. And finally, elaborating on interdisciplinary discussions about the sustainability of human rights in the Asia-Pacific.
The 6th Conference of Human Rights also supports the implementation of the Sustainable Development Goals (SDGs), especially point 16 regarding peace, justice and strong government. Every person is basically born with human rights that cannot be taken away from him. Whatever their religion, customs, culture, race, group, everyone has equality and the same rights. Efforts to foster justice and peace will not work without awareness from various parties. Society, policy makers, academics and other stakeholders must work together to re-establish human rights in Indonesia.