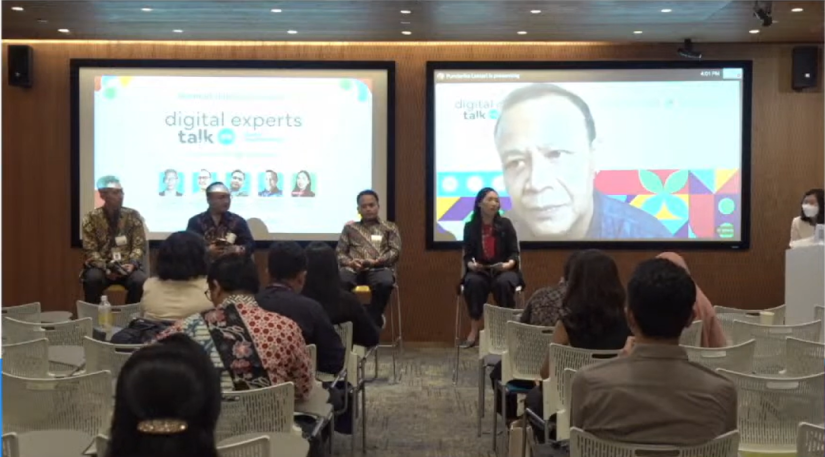 Yogyakarta, February 22nd 2023─Center for Digital Society (CfDS) of the Faculty of Social and Political Science Universitas Gadjah Mada (Fisipol UGM) is back with Digital Experts Talk #18 with the title "The Future of Hybrid Education in Post-Pandemic Indonesia". The event, which was held in a hybrid manner in Google Indonesia's office on Wednesday (22/2) was a collaboration between CfDS and Google for Education. There were four speakers in the show; I Nyoman Rudi Kurniawan the Director of Junior High School, Director General of Early Childhood Education, Ministry of Education and Culture; Bonifasius Wahyu Pudjianto, the Director of Informatics Empowerment Directorate General Aptika Kominfo; Topari, Informatics and Communication Technology Teacher at SMA 1 Playen; and Kuskridho Ambardi, CfDS Researcher.
This Digital Experts Talk is aimed to disseminate the findings of the research previously done by CfDS and Google for Education regarding technology usage in Indonesia's hybrid education. Kuskridho elaborated on the findings in the research, including the part about the acceleration of digital technology adoption due to the Covid-19 pandemic. "The question then is, once we are in the post-pandemic era, how is the continuity of edtech and hybrid education adoption?" he said. The research mapped out four different challenges in the development of hybrid learning in Indonesia which are digital infrastructure availability, gaps in access to digital devices, digital skills that are not evenly distributed, and obstacles to the implementation of character education.
The research dissemination was then followed by a panel discussion to see the issue from different perspectives. Nyoman regrets the fact that technology is no longer adopted because the learning process is held offline again. "We should have maintained the good practices we have developed during the time when we did online learning," he said. Topari agreed with Nyoman's statement. He also iterated that it is important to develop further research on why we stopped adapting technologies.
Bonafisius also underlined the research finding which found that the infrastructure gap made a lot of impact on online learning. "Indonesia is big, and providing infrastructures to the outermost area is still a problem for the Ministry of Communication and Information," Bonafisius said. He also argued that infrastructure availability needs to be followed by the ability of the citizen to make full use of existing infrastructures as well as education for students to use the internet wisely.
The adoption of edtech in hybrid learning in the post-pandemic era needs to be accompanied by preparation in various aspects. Those aspects are infrastructure, mindset, resources, and regulation. Therefore, collaboration and synergy are crucial aspects to support Indonesia's hybrid learning.