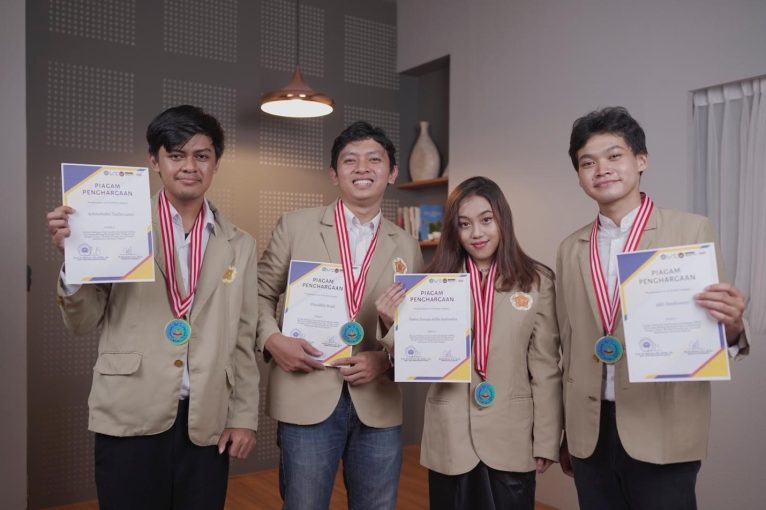 Yogyakarta, December 26th 2022─Students of the Department of Politics and Governance (DPP) Fisipol UGM, Ubaidillah Hanif and Faelsa Savana Adiba Saelendra, managed to get first prize in the Unsika National Innovation Challenge 2022 Business Plan Competition last October. Each of them has their own partner from other studies programs which are Achmaludin Taufan Azmi from the Forestry Faculty and Aldi Hendrawan from the Accounting Faculty.
The competition was held by Singaperbangsa Karawang University (Unsika) for the whole of September. The business plan being reviewed is a herbal product that is made to boost the health of Indonesian families. This idea was based on two things. First, the increasing awareness of the people regarding their health after the pandemic. Second, is the increasing interest in growing plants from home after the pandemic like through hydroponics. 
"We see that there are not many practices or cultivation packages that provide herbal plant commodities, so we want to answer these two basic ideas at once so we design a package for herbal plant cultivation," said Ubaidillah.
Ubaidillah, more commonly called Ubed, talked about the process he went through throughout the competition, starting from creating ideas to creating proposals. The proposal-making process is also pretty complex. Other than making a business model and budget and marketing plan, they also need to make the design of the product.
After going through the finals, Ubed also said that he struggled with his flight to Karawang. The problem is, the faculty only gives incentives when students have won a competition, they do not accommodate students' needs for the competition.
" At that time, we flew with our own money to hear the finals announcement, without knowing whether we won or not. But we made it happen because we believed that we would win first prize. We flew and it was true, we won," he said.
Savana said that she is very proud of her and her team's hard work when trying to get the prize. However, according to her, good competition is a finished competition. She is excited to join activities outside of the campus to develop her skills and try to challenge herself. 
"Hopefully she can be braver in taking chances outside of campus that can train my skills," she said.
Ubed also gave a small message to students. He said that the facility to develop ourselves is already wide open and one of those facilities is a competition.
"Compete, get as many achievements as you can while you're in university, because it's one of the best ways to develop yourself," Ubed said.