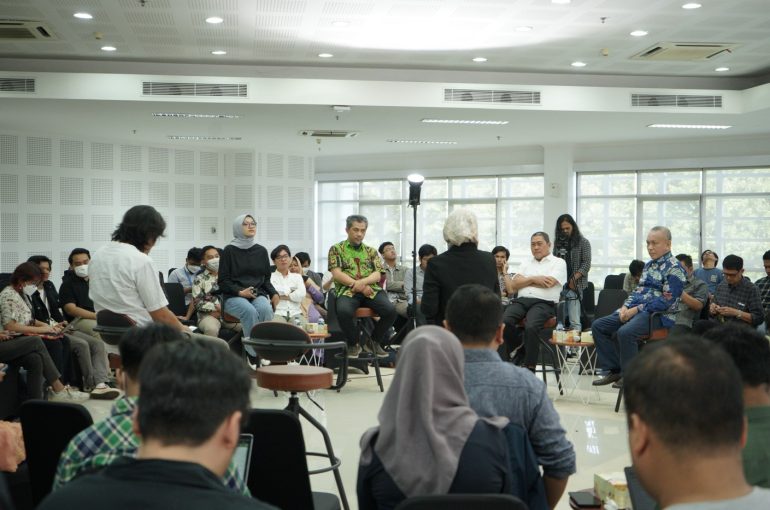 Yogyakarta, May 23rd 2023─Election Corner of FISIPOL UGM held the Future Leader Forum event entitled "IKN Damaging the World's Lungs?" with the theme "Kalimantan Transformation as a New IKN Towards a Green Society" on Tuesday (23/5) at the Auditorium Mandiri of the Faculty of Social and Political Sciences of UGM. In this forum, guest speaker M.T. Nurdin and Adrian Hakim who are part of the Governor's Team to Supervise the Acceleration of Development of East Kalimantan, representing the Governor of East Kalimantan, Isran Noor. In addition, three discussants were also presented; Dwiko Budi Permadi, a lecturer at the Faculty of Forestry of UGM; A'ak Abdullah Al Kudus, Gusdurian Care Coordinator and Green Community Activist; and Aulia Khoiriya, Head of the Corps of Political Student of FISIPOL UGM; and moderated by Desintha Dwi Asriani, Lecturer of the Department of Sociology UGM.
One of the discourses that often appears in the context of IKN development is regarding green areas. Nurdin acknowledged that there are many environmental demands in the development of IKN, Indonesia's new capital. In this regard, he stated that environmental management had received great attention in the development of the master plan documents.
"Environmental governance is considered, both in terms of technical (matters), the layout of buildings and infrastructure, as well as certain areas that are not actually built, also including for animals," explained Nurdin.
Responding to a question on the headline of the event, Dwiko stated that forest destruction includes two things, namely deforestation and forest degradation or reduction in quality. Furthermore, there are planned and unplanned damages. "What we are currently doing with IKN is planned deforestation," said Dwiko. However, on the other hand, the development of IKN also gives hope. Dwiko explained the forest transition theory which states that the civilization of a nation begins with massive deforestation to a certain point, the rate of deforestation will slow down and forest recovery will occur.
Furthermore, A'ak highlighted that the transfer of IKN was carried out due to the deteriorating condition of Jakarta. However, A'ak also questioned the potential negative impacts that might occur as a result of the IKN development. "Does the IKN that we are going to build not have a bigger impact than Jakarta?" he asked. In line with A'ak, Aulia also emphasized that we shouldn't create new problems with the construction of the National Science Center. In addition, Aulia also spoke further about the impacts on social, economic and political aspects.
Meanwhile, Election Corner itself is a program at the faculty level.