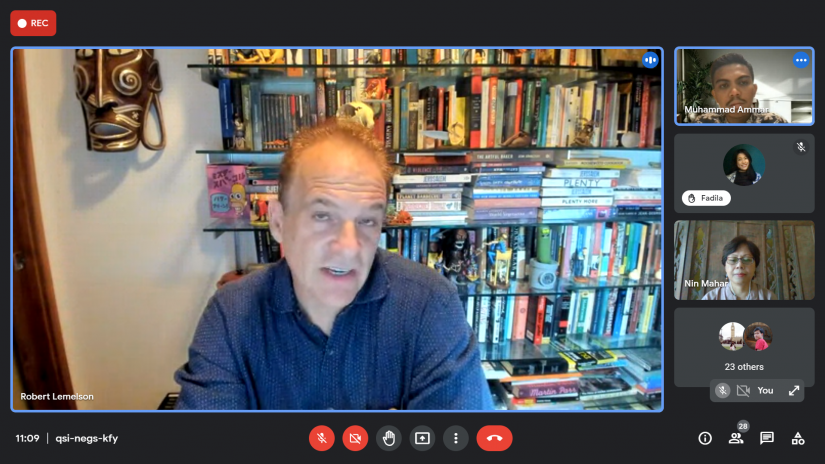 Yogyakarta, September 29th 2021─The Covid-19 Pandemic affects the cases of violence against women, especially domestic violence. With this in mind, the Asean Studies Center (ASC) Fisipol UGM created the first series of ASEAN Talk-ReaLISM titled Reading, Learning, and Investigating Southeast Asia through Movies. The ASEAN Talk was held on Wednesday (29/9) and was opened by a documentary film titled Standing on the Edge of a Thorn: A Family in Rural Indonesia (2012). The movie that talks about poverty, mental health, and domestic violence was produced by Robert Lemelson, an American Anthropologist is also present in the event. Other than Robert Lemelson, ASEAN Talk also invited Udiana Puspa Dewi, S.S., MA. as a PhD Candidate in the University of Queensland, and Ninik Supartini, M.Si., as a researcher in the Robert Lemelson Foundation.
The Standing on the Edge of a Thorn: A Family in Rural Indonesia documentary film talks about Lisa Rohani, a kid from Gunungkidul that was born from an early marriage. The film talks about Lisa's life alongside her parents which are Iman Rohani and Tri, in a cycle of domestic abuse, sexual violence, and mental ilness. 
Robert Lemelson in the discussion session said that the issue of mental illness is something that needs to be paid attention to before a suicide epidemic arises. Domestic violence also needs to be handled properly because children who are victims will remember that experience forever, like what happened to Lisa. The solution is not as simple and straightforward as giving material and educational support. "It's not that simple," said Lemelson, strengthening the argument that the postcolonial perspective doesn't resolve the issue well. 
The discussion was also enriched by Ninik Supartini who was involved in the film production process. Until now, both Ninik and Lemelson still keep in touch with Lisa and her family. Ninik said that gender based violence is closely related to social norms and culture that harms women. In regards to Lisa, Ninik said that the Lemelson Foundation has pushed her to develop her skills and avoid domestic abuse. "It's a very long work and relationship. We still maintain communication with her and talk as if we are a family," said Ninik. 
Meanwhile, Udiana Puspa Dewi said that the ethnographic perspective in the film successfully shows women's vulnerability in the domestic area. According to Udiana, women's identity is dictated by our society, so women don't have the chance to create their own identity. "Women don't have the chance to choose what is best for her. Women are forced to fulfill society's expectation on being a good mother and wife," Udiana explained.