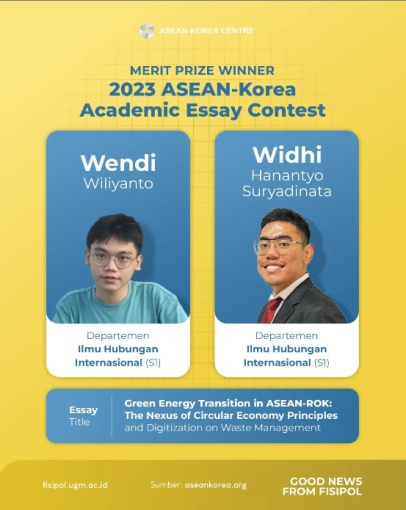 Yogyakarta, October 9th 2023─Wendi Wiliyanto and Widhi Hanantyo Suryadinata, two undergraduate students from the Department of International Relations (DIHI), made achievements in the ASEAN-Korea Academic Essay Contest in 2023. Through an essay entitled "Green Energy Transition in ASEAN-ROK: The Nexus of Circular Economy Principles and Digitization on Waste Management", Wendi and Hanan won the merit prize and are entitled to a prize of 500,000 won.
The idea of the essay written by Wendi and Hanan came from their concern about the gap between digitization of waste management and circular economy. "We are deeply honored. We are happy that our ideas on circular economy and waste management digitization were well conveyed to the jury," said Wendi.
Wendi explained that the essay he wrote with Hanan covered the strategic opportunities of collaboration between circular economy principles and digitization of waste management. Through this essay, they argue that the technological elements in this collaboration will result in less negative impacts when compared to conventional waste treatment models.
"Therefore, ideas like this need to be promoted proactively. The essay we wrote has a fairly inclusive approach because it also sees the role of various multi-stakeholders in the success of the waste management digitalization agenda and the internalization of circular economy principles in it," explained Wendi. This idea will also be relevant to the energy transition agenda that is being promoted, both by the South Korean government and ASEAN collectively.
Meanwhile, Hanan said that during the writing of the essay the presence of a supervisor was crucial. They wrote this essay for about a month under the guidance of Yulida Nuraini Santoso, M.Sc., a DIHI lecturer who specializes in ASEAN studies. Through the discussions they had with their supervisor, they were able to find various details of the problem. "Therefore, we think that the supervisor is one of the keys [for us] to win the competition because through the supervisor we find new insights and have a new point of view," said Hanan.
The annual essay competition organized by the Korea-ASEAN Centre is attended by students from various universities in South Korea and ASEAN. Since it was held in 2016, this is the second time the students have won the title.