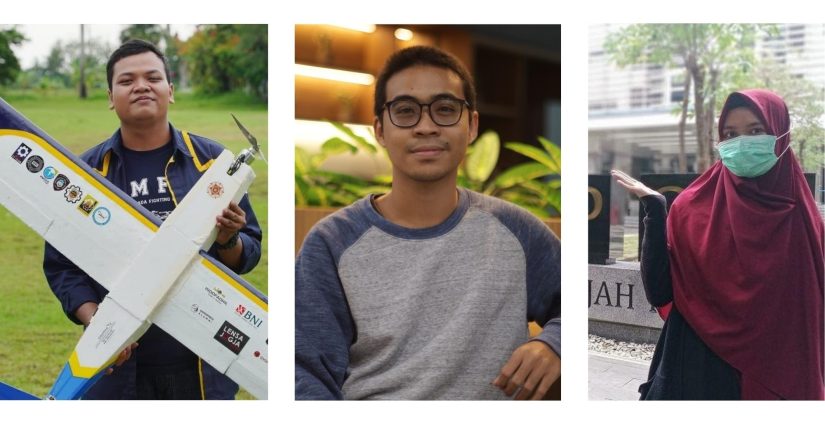 A couple of UGM Faculty of Social and Political Science students won a variety of competitions. Starting from Agam Syah Fadhila who won the Grand Champion in the Indonesia Flying Robot Contest (KRTI) 2021 with the UGM Gamaforce team. Even though he is a social studies student, Agam's achievement shows that there are no limits when it comes to learning new things. Therefore, with the knowledge that he already has, Agam can still contribute to the team and eventually win a prize."Even though I'm from social studies, there is some useful knowledge that I gained from my studies such as how to create a plan and how to have a good interpersonal communication," Agam said, a communication studies batch 2019 student.
A similar achievement from the same department was made by Satria Setya Wibawa. Equipped with communication studies knowledge, he won three championships in the film category. He won first place in the Spectrum Fisip UNS 2021 Short Movie Championship, first place in FETEPERS FKIP ULM 2021 short education movie championship as well as third place and voters-favorite winner in the Agriploxion 2021 short video championship. Satria also created a film community with members from many different universities. This community is aimed to be a place of discussion, collaboration, and a group to enter and win championships.
Other than the Communication Studies Department, a student from the Public Policy Management Department, Latifatul Zahiroh, also won an array of championships. She got the best position paper in the Global Millennial Model United Nation (UNDP Council) XI 2021, was the selected delegation to represent Indonesia for ASEAN Youth Conference 2021, the second winner of the national essay competition LAZNAS LMI Youth Competition 2021, and the Popular Article Championship Raja Bandar Fest UGM 2021. She also got third place in the National Essay Competition of Spectrum Tournament BEM FISIP UNS 2021.
According to Latifah, entering a competition can start from identifying the motivation and potentials that we have. "Everyone has their own passion. Focus on what we have and don't compare ourselves to other people. From then on, focus on being consistent and always trying" Latifah said.
The many different achievements gained by Fisipol UGM students show that being busy with our studies shouldn't stop us from achieving accolades. While we study and become a part of organizations, we can also try to join several different competitions as a way to reach self-actualization and to grow our potential.